Clean power mix to make up 16.5% of overall pie by 2025
Share - WeChat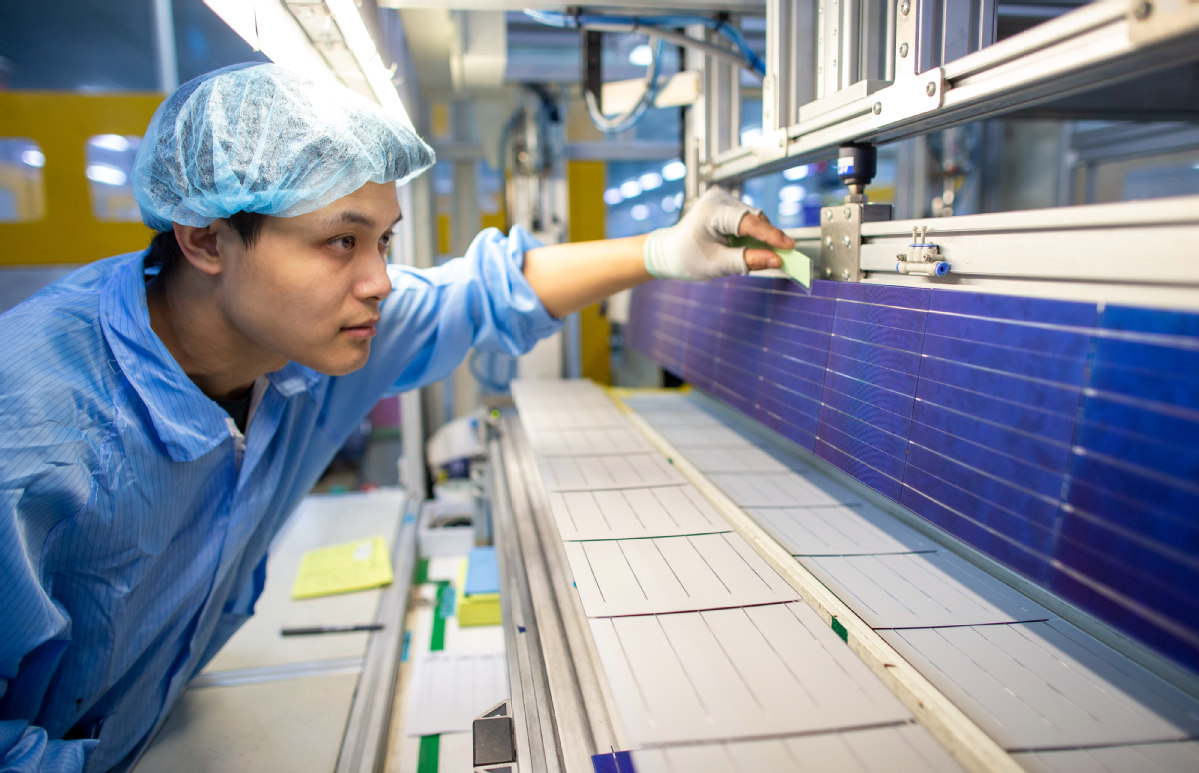 Solar and wind generation to further grow on nation's carbon neutrality call
Solar and wind power generation in China is expected to continue increasing over the next five years and eventually account 16.5 percent of the country's total power consumption by 2025, the National Energy Administration said in a draft plan on Monday.
According to the administration, solar and wind power generation will account for 11 percent of the country's total power consumption this year, up from 9.7 percent in 2020, as the country aims to peak carbon dioxide emissions by 2030 and achieve carbon neutrality by 2060, while boosting the share of non-fossil fuels in primary energy consumption to around 25 percent by 2030.
The government will further improve the development mechanism, optimize environmental conditions and give full play to the leading role of local governments to mobilize investment enthusiasm and ensure high-quality development of wind and solar power, it said.
Solar and wind power project developers are also urged to accelerate construction and local governments should speed up granting approvals to new solar and wind projects. The NEA also urged power grid firms to guarantee that electricity generated from the green power plants is able to connect to the grid to ensure the long-term development of renewables in the country, according to the draft plan.
Analysts believe China is going to use more electricity from renewables and is going to make power cheaper overall.
"According to NEA, new wind and solar PV projects will be allocated based on competitive auctions held at the provincial level. Compared with NEA's previous policy draft version, the 'subsidy reductions in exchange for new projects' clause has been removed in the new version, which we believe will remove an overhang of the Chinese renewable industry," said Wang Lu, an Asian Renewables analyst at Bernstein.
"Renewable power operators' capacity growth will more than offset the decline of projects' returns, resulting in multiyear revenue and earnings growth. Similarly, renewable equipment manufacturers will enjoy higher sales volumes as solar and wind will market share in the energy mix."
The National Development and Reform Commission, China's top economic regulator, said on Monday that NDRC is stepping up in formulating policy with the goal of achieving peak carbon dioxide emissions by 2030 and carbon neutrality by 2060.
Meng Wei, NDRC spokesperson, said at a news conference that NDRC is working in line with competent departments for top-level policy design on peaking carbon dioxide emissions by 2030 and also sector-specific implementation guidelines.
Guidelines will shed light on promoting industrial upgrading by continuously promoting green, low-carbon growth in a number of industries. Efforts will be made in adjusting energy structure and in implementing renewable energy alternatives. The country is also ready to put control on energy consumption, particularly for key industries, she added.
The role of both the government and the market will be fully leveraged in forging a green, low-carbon policy system and market-oriented mechanism, according to Meng. She said that China will enhance international communication and cooperation in this regard by taking part in and leading global governance on climate and the environment.
Wang Jinnan, head of the Chinese Academy of Environmental Planning, said that the goals of peaking carbon dioxide emissions and reaching carbon neutrality will surely bring changes to many sectors, particularly to the power industry. It will accelerate sector reform and the proportion of renewable energy power generation will see a notable increase.
On Sunday, China and the United States issued a joint statement addressing the climate crisis after talks between China Special Envoy for Climate Change Xie Zhenhua and US Special Presidential Envoy for Climate John Kerry in Shanghai. The statement said that China and the US will cooperate with each other under the United Nations Framework Convention on Climate Change and the Paris Agreement, and will join hands to identify and address opportunities and challenges in climate change.