Shortage of computer chips hurts automakers in the US
Share - WeChat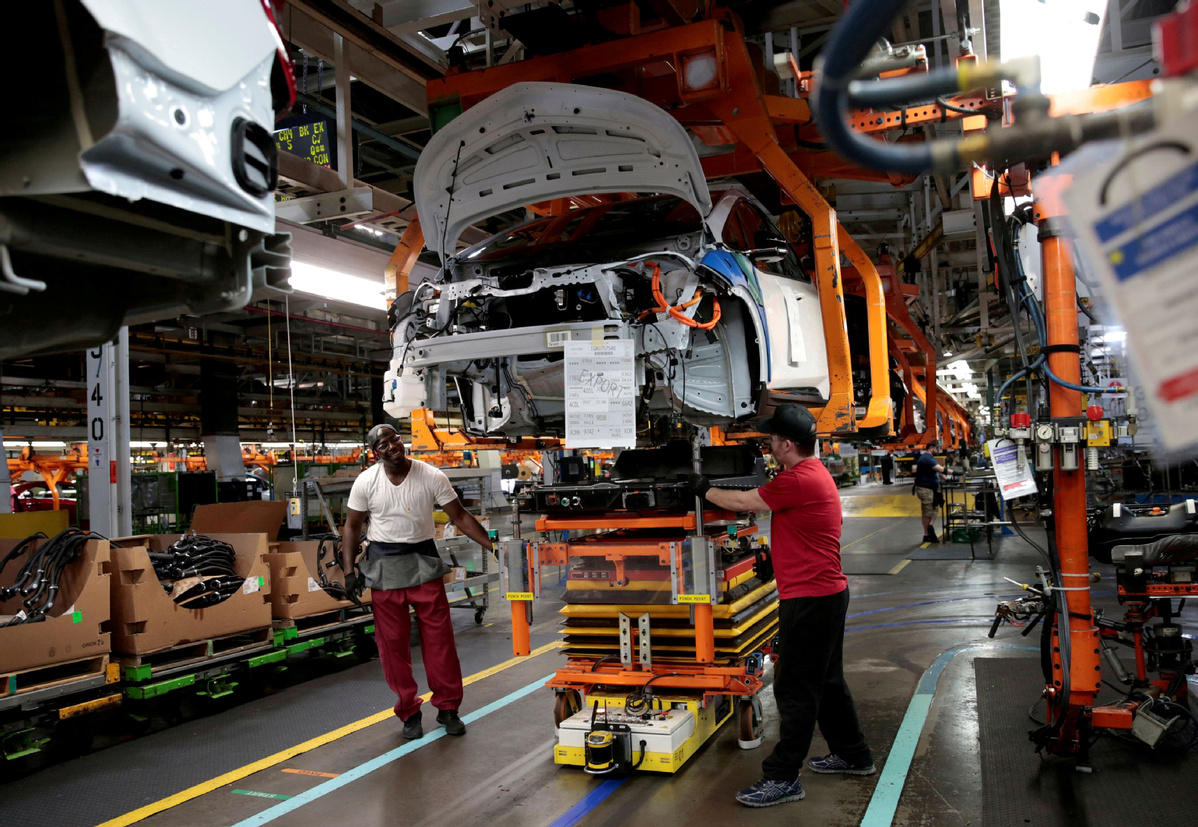 It has been more than two months since a new General Motors car has rolled off the production line at the automaker's huge factory in Kansas City, Kansas.
Although GM officials say the factory will remain closed until May 10, the union chief says he is not sure that is the case.
A global computer-chip supply crunch that has spread to a range of other consumer electronics, including smartphones, personal computers, refrigerators and microwaves, is now hammering all US automakers.
Semiconductors are crucial components in new vehicles for uses such as information and entertainment systems as well as more basic functions like power steering and brakes.
Depending on the automobile and its options, experts say a vehicle could have hundreds of semiconductors. Higher-priced vehicles with advanced safety, information and entertainment systems have far more than a base model, including different types of chips.
The US auto industry is the nation's largest manufacturing sector, contributing $1.1 trillion to the economy, or 5.5 percent of GDP.
GM expects the chip shortage to cut its earnings by $1.5 billion to $2 billion this year. Ford said the situation could reduce its earnings by $1 billion to $2.5 billion.
But US automakers aren't the only ones hurting. Virtually no automaker has been spared. Auto industry manufacturers across the globe are expected to lose billions of dollars in revenue this year. Consulting firm AlixPartners put the number at $60.6 billion.
The origin of the industry's chip shortage dates to early last year, when the coronavirus pandemic caused rolling shutdowns of vehicle assembly plants. As facilities closed, chip suppliers diverted parts to other sectors such as consumer electronics.
There was an explosion in demand for computer chips during the pandemic as millions of employees working at home used and acquired more smartphones, PCs and gaming consoles, causing a near-term spike in demand that eventually led to an unprecedented global shortage.
Chip manufacturers started redeploying their capacity to consumer electronics, which was growing because of "virtual working patterns", said Hau Thai-Tang, Ford's global head of product development and purchasing, during an investor conference last year.
So now US carmakers are competing against the sprawling consumer electronics industry for chip supplies. Consumers also bought more cars than industry officials expected last spring, further straining supplies.
But that insatiable demand isn't the only reason semiconductors are in short supply, analysts say. They point to shifting business models in the industry that have also created a bottleneck at outsourced chip factories.
The shortage has driven up costs of even the cheapest components of nearly all microchips, increasing the prices of final products.
Qualcomm Inc, whose chips are used in Samsung phones, is one major chipmaker struggling to keep up with demand. Apple Inc's major supplier Foxconn also warned of the chip shortage affecting supply chains to clients.
The majority of chip production occurs in Asia, where major contract manufacturers such as Taiwan Semiconductor Manufacturing Co and Samsung handle production for hundreds of different chip companies.
US semiconductor companies account for 47 percent of global chip sales, but only 12 percent of global manufacturing is done in the US.
Sanctions against Chinese tech companies have further exacerbated the crisis.
Eric Xu, the rotating chairman of the Chinese telecom company Huawei, said US sanctions imposed on the firm over the last two years are "hurting the global semiconductor industry" because they have "disrupted the trusted relationship in the semiconductor industry".
Speaking to analysts in Shenzhen at Huawei's Analyst Summit on April 12, Xu said: "The US sanctions (are) the main reason why we are seeing panic stockpiling by major companies around the world."
He said Huawei has built a stockpile of chips to try to ensure that its business-focused on telecom equipment and consumer electronics-will continue as normal.
The US imposed sanctions on Huawei after accusing it of building back doors into its equipment, saying it could harm national security. Huawei strongly denies the US allegations.
US President Joe Biden has sought $37 billion in funding for legislation to supercharge chip manufacturing in the country. Currently, four new factories are slated in the country, two by Intel Corp and one by Taiwan Semiconductor in Arizona, and another by Samsung in Texas.
While the computer chip supply crunch has most visibly hurt automakers, forcing them to temporarily idle factories, it is affecting a variety of businesses, including manufacturers of personal computers and other equipment.
"Every aspect of human existence is going online, and every aspect of that is running on semiconductors," said Pat Gelsinger, the new CEO of chipmaker Intel.
The chip shortage is going to take "a couple of years" to abate, as demand soars alongside limited manufacturing capacity, he said.
Gelsinger spoke with The Washington Post after attending a virtual White House meeting with Biden on April 12 to address the problem.
Participants in the meeting, described by the White House as a "virtual CEO summit on semiconductor and supply chain resilience", included executives from AT&T, Ford, GM, Google, Intel, Samsung and Taiwan Semiconductor. The meeting was closed to news media, aside from a brief portion when Biden gave remarks.
To ensure more domestic chip supply in the long term, the Biden administration is proposing spending $50 billion to subsidize semiconductor manufacturing facilities, an idea with broad bipartisan support.