Life science sector to become self-reliant
Share - WeChat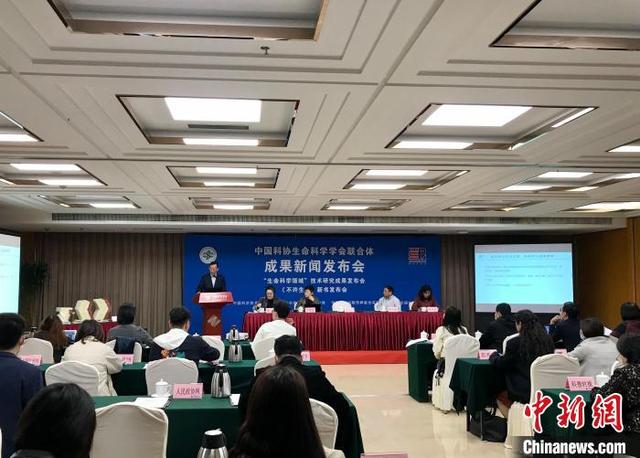 China's life science researchers and industries have made "tremendous progress" in the past few years, but their overreliance on imported equipment and consumables and foreign databases may hinder development of the sector, experts said on Monday.
The China Union of Life Science Societies, an organization under the aegis of the China Association for Science and Technology, is preparing to publish a blue paper on the status and research achievements of China's life science sector.
Wang Xiaoning, a noted immunologist and secretary-general of the union, told a news briefing about the blue paper on Monday that China has emerged as one of the global powerhouses in life science research, boasting the world's largest talent pool, the most patents, and the highest growth rate in research funding and academic papers.
China also houses one of the world's most robust biomedicine industries, and is a global leader in stem cell, biotherapy and other frontier life sciences, he said.
"Our drug discovery and development capability has improved from reproducing what others have done to creating first-class medicine by ourselves, and some of our products are gradually getting recognized around the globe," Wang said, adding that China approved 56 domestically developed new drugs in 2019.
However, its pharmaceutical industry is heavily reliant on imported equipment and consumables, including vials, enzymes and filter bags. One readily apparent ramification was the high cost of making COVID-19 diagnostic kits, especially in the early days of the pandemic, Wang said.
"At one point the cost of a COVID-19 test soared to 200 yuan ($30.70), but DaAn Gene, a Chinese biotech company at Sun Yat-sen University, was able to bring the cost down to 10 yuan, and still made a net profit of 2.37 billion yuan last year," he said.
"This was because the company had spent three years figuring out how to produce key reagents on its own, so their test kits weren't affected by the rising cost of materials. This is a very positive example of how to approach and overcome 'bottleneck' issues in life sciences: start with the basic but crucial needs of the industry."
Wang said that perhaps the biggest limiting factor is Chinese scientists' over-dependence on accessing foreign scientific databases such as PubMed, a free biomedical and health science literature search engine owned by the United States government.
If the US government decided to block Chinese researchers' access to PubMed, or charge enormous fees for accessing its scientific literature and data, it would severely hamper China's ability to do related research, Wang said, adding that some virology institutes in China are already banned from the database.
China is now the world's biggest raw scientific data provider and buyer, Wang said. Some research institutions have to pay tens of millions of yuan to download scientific literature and raw data from foreign databases, even though much of the data are submitted to the foreign platforms by Chinese scientists who have to do so in order to get their studies published.
"This can be a big threat to our data security, and a big waste of our research funding," he said.
To tackle these issues, Wang advocated more comprehensive and cohesive government policy support in platform building, more funding for basic research on equipment and consumables, and the optimization of evaluation standards for talent, projects and products.
Qin Chuan, the director of the Institute of Laboratory Animal Sciences at the Chinese Academy of Medical Sciences, said Chinese scientists and companies believed for decades that importing high-quality consumables and tools was more convenient than creating them from scratch at home.
However, in recent years, Chinese researchers had grown increasingly aware of the effects of such dependency, as their research could suffer if foreign countries refused to export materials or were no longer interested in making them, she said.
That compelled China to make its own tools and models, such as creating its own animal models in the early days of the COVID-19 pandemic, Qin said.
"These are the basic requirements for basic research," she said.