Peony business helps Heze bloom
Share - WeChat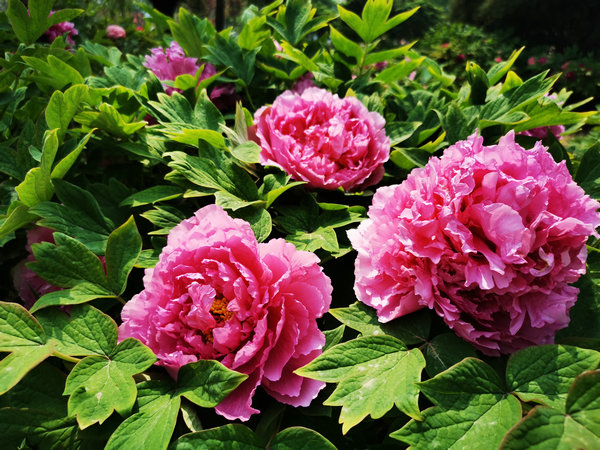 Peonies do not just offer a visual feast in East China, but are also growing into an industry that revitalizes rural areas in Heze, Shandong province.
In mid-April, the bright colorful expanse of peony blossoms in Caozhou Peony Garden in Heze attracted flocks of tourists to take photos with blooms of purple, pink, yellow and red.
Zhang Tingxian, a Heze local, spent a morning walking among the flowers in the garden along with his family members. He bought three potted peonies at the gate of the garden.
"The best place and best time to smell the flowers," he says. He takes his parents, wife and children to the garden every April, which he says is the best time to appreciate the peonies and enjoy leisure time with family.
As he travels a lot on business trips, Zhang does not have time to tend the family's farmland, so he transferred the right of using some of the family's farmland to a company to plant peonies.
"My family members can tend to the peonies for the company and earn a good income," he says.
Heze was named the "peony capital of China" by the China Flower Association in 2012, and it has a history of cultivating peonies dating back almost 1,400 years.
The city has been working hard to pass down the traditions of peony cultivation so as to develop the flower business that can help revitalize the rural areas. Heze now has an area of 32,400 hectares growing peonies.
When the peonies blossom in April, the city's government says about 5,000 people visit Caozhou Peony Garden every day. The garden is one of nine major peony gardens built in Heze for sightseeing.
Not far away from Caozhou Peony Garden, some farmers were busy picking peony flowers for sale at Wangqiao village, Huangzhen community, in the city's peony district. Some farmers were also holding livestreaming sessions to promote the flowers.
"Based on the traditional techniques of growing peonies, we have also developed new techniques to cultivate peony species that can grow well in pots and their flowers are suitable to be used in flower arrangements," says Xing Shiguo, an official of Huangzhen.