Integration key to Asia's sustained economic recovery, Boao report says
Share - WeChat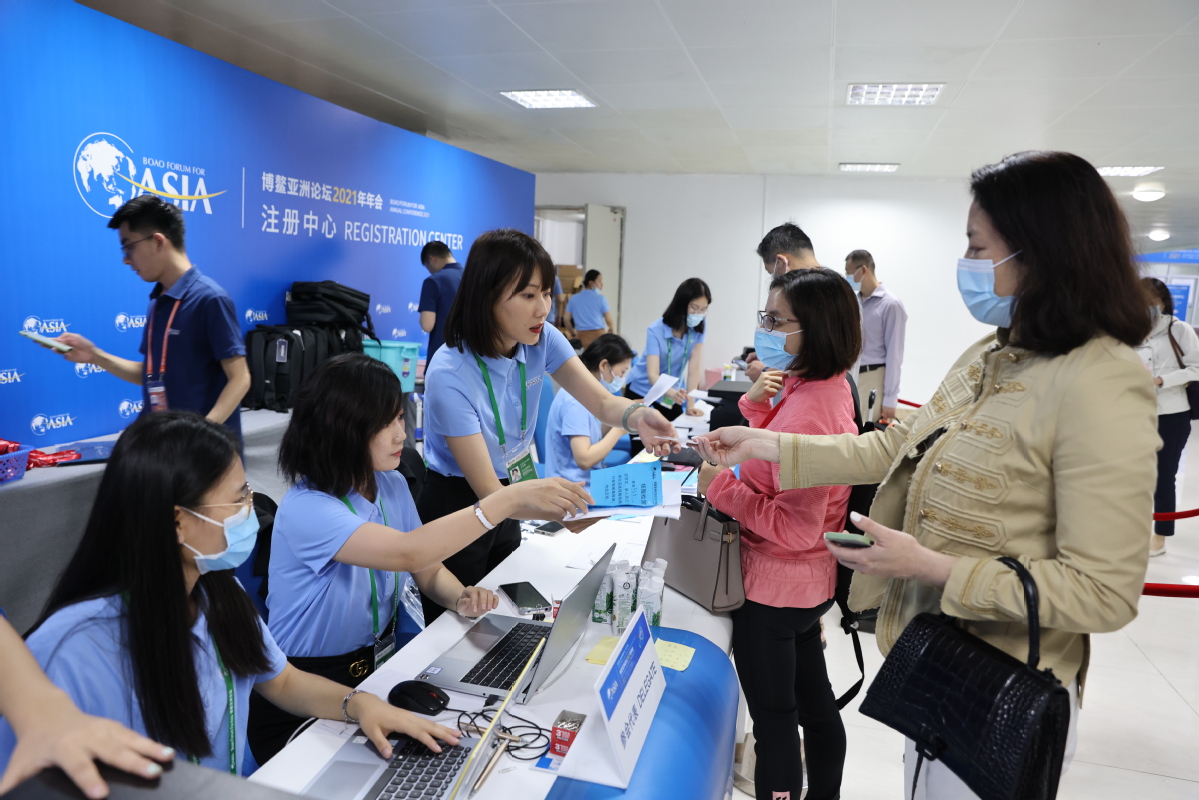 The Asian economy is projected to sustain recovery, and its annual growth rate may exceed 6.5 percent this year, as integration in regional trade strengthens, according to a key report issued on Sunday.
The COVID-19 pandemic will be the main factor directly affecting the economic activities in Asia, but the value chain is converging to China, thanks to the advanced regional integration of trade in goods and services, according to the flagship report of the Boao Forum for Asia Annual Conference 2021. The forum opened on Sunday in Boao, a coastal town in China's southern Hainan province.
The research found that the trade reliance among Asian economies remains high, and despite the impact of the pandemic, China and members of the Association of Southeast Asian Nations have consolidated the central position of trade in goods in Asia.
The report said that 18 of the top 22 products of Asian trade in parts and components are manufactured in China.
In addition, increasing service trade links, tourism interdependence and growing digital trade will foster regional economic integration, said researchers at the event, which is ongoing this week after 2020's absence due to the virus.
Asian economies will remain an "anchor" for multilateralism and play a key role in bolstering pandemic control, keeping industry and supply chains efficient and stable, and promoting trade and investment, said Li Baodong, secretary-general of the Boao Forum for Asia.
Zhang Yuyan, director of the Chinese Academy of Social Sciences' Institute of World Economics and Politics, said on Sunday that the entry into force and implementation of the Regional Comprehensive Economic Partnership will bring positive new factors to Asia's economy through trade and investment.
However, potential downside risks in Asia include deterioration of banks' asset quality and the rising debt level, because of previous massive fiscal and monetary stimulus moves. In addition, it may be difficult to fundamentally improve the external environment for Asia's economy in the short term, said Zhang.
Another report released during the conference on Sunday said that more than 60 percent of surveyed business owners were optimistic about Asia's economic recovery, and strong anti-pandemic measures and regional integration are expected to be the primary drivers of Asia's economic recovery in the coming year.
In particular, new regional cooperation initiatives, as well as effective pandemic control and economic revival in some Asian economies, will also play a key role in boosting regional growth, said the report compiled by the Boao Forum for Asia Academy, the Central Asia Regional Economic Cooperation Institute and Deloitte China.
In Asia, China is seen as one of the fast-growing regions, as 98 percent of entrepreneurs said they are optimistic about China's economic recovery in terms of GDP growth, according to the report.
"Specifically, businesses believe expansion and upgrading of the consumer market as well as technological innovation will mainly drive China's sustainable growth, which will also help boost the whole regional economy and contribute to global economic development," said Yang Ying, vice-president of Deloitte China.
"China's steady economic recovery will also boost the economic development of countries and regions involved in the Belt and Road Initiative," she said.
Research has also indicated that the BRI showed strong resilience and vitality last year, with projects continuing to advance, cooperation yielding much fruit, and trade and investment continuing to grow in spite of headwinds.
Allan Gabor, president of Merck China, which has joined the forum, took a rosy view of China's future development, saying the German conglomerate has seen rising growth opportunities in China's move toward a high-tech and innovation-driven nation.
With the Chinese government's intensified efforts to drive digitalization during the country's 14th Five-Year Plan (2021-25) period, it is the right time to further invest in China's vast domestic market, Gabor said.
"We see great opportunities in many sectors including cloud computing, big data, the internet of things, industrial internet, block chain and artificial intelligence," he said. "China's economy shows great resilience … and will inject strong impetus into the global economic recovery."